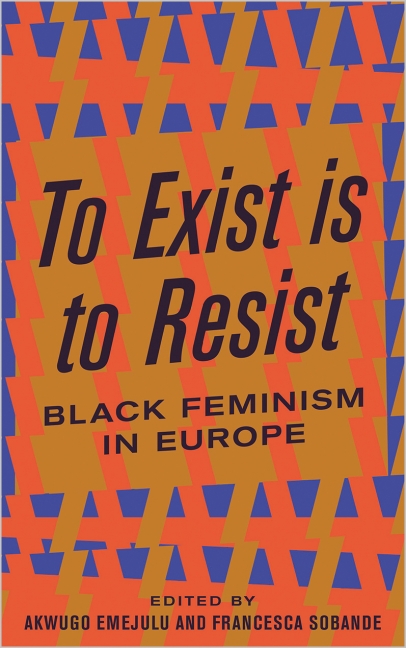 To Exist is to Resist
Black Feminism in Europe
In a divided continent, Black women and women of colour come together to undertake creative resistances and imagine radical new futures.
This book brings together activists, artists and scholars of colour to show how Black feminism and Afrofeminism are being practiced in Europe today, exploring their differing social positions in various countries, and how they organise and mobilise to imagine a Black feminist Europe.

Deeply aware that they are constructed as 'Others' living in a racialised and hierarchical continent, the contibutors explore gender, class, sexuality and legal status to show that they are both invisible - presumed to be absent from and irrelevant to European societies - and hyper-visible - assumed to be passive and sexualised, angry and irrational.

Through imagining a future outside the neocolonial frames and practices of contemporary Europe, this book explores a variety of critical spaces including motherhood and the home, friendships and intimate relationships, activism and community, and literature, dance and film.
Akwugo Emejulu is Professor of Sociology at the University of Warwick. She is the author of Community Development as Micropolitics: Comparing Theories, Policies and Politics in America and Britain (Policy Press, 2015), and the co-author with Leah Bassel of Minority Women and Austerity: Survival and Resistance in France and Britain (Policy Press, 2017) and Fugitive Feminism (Silver Press, 2018).
Dr Francesca Sobande is a Digital Media Studies Lecturer at Cardiff University. Her work focuses on how racism and sexism manifest in media and the marketplace. She has published work in the European Journal of Cultural Studies, and Consumption Markets and Culture, and is the author of The Digital Lives of Black Women in Britain (Palgrave Macmillan, forthcoming 2020).
'Centring the Black experience in Europe is a bold and empowering act. This anthology offers crucial insights into what it means to navigate this region as a black female body. I truly welcome the publication of this book.' - Jeannette Ehlers, Visual Artist
'To read this book is to fully engage in an understanding of Black Feminism and Afrofeminism praxis. It is to discover the plurality of experiences, so that a political sisterhood and a global liberation can be born' - Laura Nsafou, blogger at Mrs. Roots and author of 'Like A Million Black Butterflies'
List of Figures
Part I: Introduction
1. Introduction: On the Problems and Possibilities of European Black Feminism and Afrofeminism - Akwugo Emejulu and Francesca Sobande
Part II: Resistance, Solidarity and Coalition-Building
2. The Collective Mobilisation of African Women in Athens 'United We Stand' - Viki Zaphiriou-Zarifi
3. Making Space: Black and Womxn of Colour Feminist Activism in Madrid - Nadia Nadesan
4. Those Who Fight For Us Without Us Are Against Us: Afrofeminist Activism in France - Mwasi Collectif
5. Afro Women's Activism in Belgium: Questioning Diversity and Solidarity - Nicole Grégoire and Modi Ntambwe
6. A Black Feminist's Guide to Improper Activism - Claire Heuchan
Part III: Emotions, Affect and Intimate Relations
7. Revisiting the Home as a Site of Freedom and Resistance - Gabriella Beckles-Raymond
8. Uses of Black/African Literature and Afrofeminist Literary Spaces by Women of Colour in French-Speaking Switzerland - Pamela Ohene-Nyako
9. 'Blackness Disrupts My Germanness.' On Embodiment and Questions of Identity and Belonging among Women of Colour in Germany - Johanna Melissa Lukate
10. Love and Affection: The Radical Possibilities of Friendship Between Women of Colour - Ego Ahaiwe Sowinske and Nazmia Jamal
11. Black Pete, Black Motherhood and Womanist Ethics - Lubumbe Van de Velde
12. Warriors and Survivors: The Eartha Kitt Files - Alecia McKenzie
Part IV: Surviving the Academy
13. In the Changing Light; Daring to Be Powerful - Yesim Deveci
14. Cruel Ironies: The Afterlife of Black Womxn's Intervention - Cruel Ironies Collective
15. Creating a Space within the German Academy - Melody Howse
16. A Manifesto for Survival - Sadiah Qureshi
17. At the Margin of Institutional Whiteness: Black Women in Danish Academia - Oda-Kange Midtvage Diallo
18. Africanist Sista-hood in Britain: Creating Our Own Pathways - Chijioke Obasi
Part V: Digital and Creative Labour
19. But Some of Us Are Tired: Black Women's 'Personal Feminist Essays' in the Digital Sphere - Kesiena Boom
20. Coming to Movement: African Diasporic Women in British Dance - Tia-Monique Uzor
21. Through Our Lens: Filming Our Resistance. Does the Future Look Black in Europe? - Dorett Jones
22. When We Heal: Creative Practice as a Means of Activism and Self-Preservation - Stacie CC Graham
Notes on Contributors
Index
Published by Pluto Press in May 2019
Paperback ISBN: 9780745339474
eBook ISBN: 9781786804587