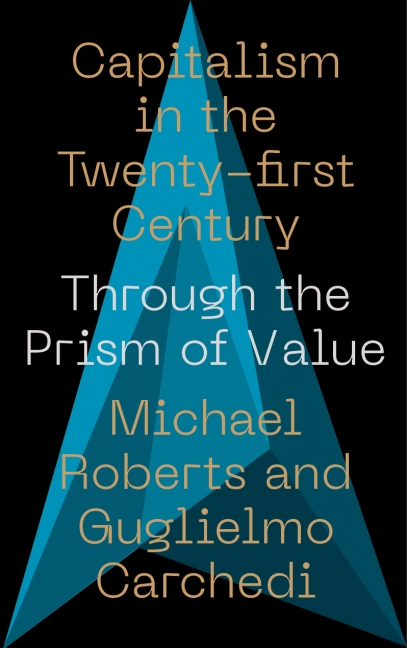 Capitalism in the 21st Century
Through the Prism of Value
Series: IIPPE
A sweeping, authoritative and accessible overview of major issues in the global economy from a Marxist perspective
Contemporary capitalism is always evolving. From digital technologies to cryptocurrencies, current trends in political economy are much discussed, but often little understood. So where can we turn for clarity? As Michael Roberts and Guglielmo Carchedi argue, new trends don't necessarily call for new theory.
In Capitalism in the 21st Century, the authors show how Marx's law of value explains numerous issues in our modern world. In both advanced economies and the periphery, value theory provides a piercing analytical framework through which we can approach topics as varied as labour, profitability, automation and AI, the environment, nature and ecology, the role of China, imperialism and the state.
This is an ambitious work that will appeal to both heterodox economists and labour movement activists alike, as it demonstrates the ongoing contemporary relevance of Marxist theory to current trends in political economy.
Guglielmo Carchedi was Professor of Economics at Amsterdam University and is the author of several works including Frontiers of Political Economy, For Another Europe and Behind the Crisis.
Michael Roberts has worked in the City of London for over 30 years as an economist and financial adviser. He is author of several books including The Great Recession, The Long Depression and Marx 200. He blogs at thenextrecession.wordpress.com.
'A tour de force. This Marxist analysis is both a significant addition to the literature on Marx's theory of value and an accessible introduction to why it is essential to understanding the multiple crises of twenty-first century capitalism'

- Murray E.G. Smith, Professor of Sociology at Brock University
'Carchedi and Roberts make killer arguments that Marx's labour theory of value is indispensable for understanding capitalism's environmental destructiveness, economic crises, impact on knowledge production and aspects of its financial processes'

- Rick Kuhn, author of the Deutscher Prize winning 'Henryk Grossman and the Recovery of Marxism'
'Fundamental. Roberts and Carchedi explains the characteristics of the current world through its most objective dimension - the theory of value - which, in an anti-dialectical way, has been forgotten by the left in recent decades'

- Raquel Varela, author of 'A People's History of the Portuguese Revolution'
'Offers a rigorous Marxist interpretation of some of the major issues in contemporary capitalism. Its analysis is firmly based on the Marxist labour theory of value and is coupled with meticulous empirical support'

- Satvros Mavroudeas, Professor of Political Economy at Panteion University, Greece
'Two of the most accomplished and prominent Marxist authors'

- Lefteris Tsoulfidis, Professor of Economic Thought, University of Macedonia, Greece
'Capitalism will always be capitalism, but in the 21st century new forms, controversies and challenges have appeared ... This book masterfully shows the strength of Marx's law of value and the alternative socialist planning'

- Juan Pablo, Professor of Applied Economics, Complutense University of Madrid
'Brilliant Marxian theoretical and empirical analysis ... as if updating Ernest Mandel's Late Capitalism for the 21st century'

- Seongjin Jeong, Professor of Economics, Gyeongsang National University
'Restates Marx's critique of political economy for today, displaying formidable theoretical rigour and command of the empirical evidence. Roberts and Carchedi offer challenging analyses of ecological catastrophe, economic crises, imperialism, robots, and socialism from which everyone will learn'

- Alex Callinicos, Professor of European Studies, King's College London
Introduction
1. Nature and value
2. Money, prices and value
3. Crises and value
4. Imperialism and value
5. Robots, AI, knowledge and value
6. Socialism and value
Appendix 1: The value theory of inflation
Appendix 2: Measuring unequal exchange of value in international trade
Published by Pluto Press in Dec 2022
Paperback ISBN: 9780745340883
eBook ISBN: 9781786806970