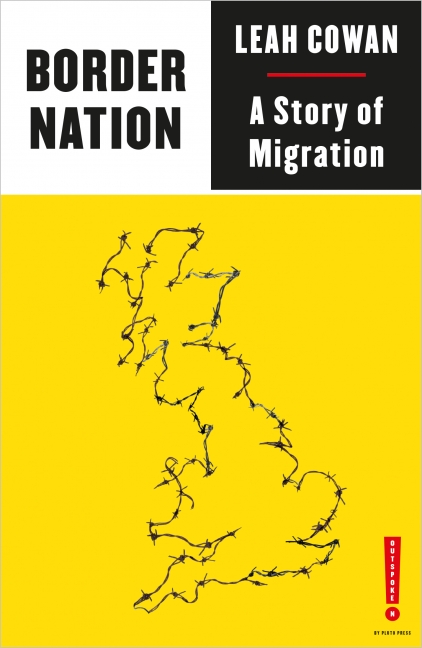 Together, we can break down borders
'A must-read manifesto for border abolition' - gal-dem
Borders are more than geographical lines - they impact all our lives, whether it's the inhumanity of deportations, or a rise in racist attacks in the wake of the EU referendum. Border Nation shows how oppressive borders must be resisted.
Laying bare the web of media myths that vilify migrants, Leah Cowan dives into the murky waters of corporate profiteering from borders by companies like G4S, and the ramping up of everyday borders through legislation. She looks at their colonial origins, and explores how a draconian approach to border crossings damages our communities.
As borders multiply, so too must resistance. From demonstrations inside detention centres to migrant-led campaigns and acts of cross-border solidarity, people are fighting back to stand up for everyone's freedom to move.
This book is part of our Outspoken by Pluto series.

Leah Cowan is the former Politics Editor at the award-winning magazine gal-dem. She works at Project 17, an advice centre which supports migrant families with No Recourse to Public Funds (NRPF). She speaks on race, gender and migration, including for UN Women, in the House of Commons, and at the Trade Unions Congress, and has written for VICE, OpenDemocracy and the Guardian.
'Powerful'

- Nikesh Shukla, editor of 'The Good Immigrant' (Unbound, 2017)
'A must-read manifesto for border abolition'

- gal-dem
'This seminal text forms the grounding for a deep and vital understanding on how an abolition of Britain's brutal border regime is needed to repair the harm caused by colonial legacies'

- Rhys Thomas, VICE
'An accessible, well-researched and indispensable guide, myth-busting at every turn, and charting not just the origins of these violent realities, but of equal importance, how we can dismantle them'

- Joshua Virasami, author of 'How To Change It: Make a Difference' (Merky Books, 2020)
'A powerful indictment of borders and border regimes that lays bare the story of how they emerged, how they exercise a tenacious hold on our imagination, and how they enact lethal violence on so many'

- Priyamvada Gopal, Professor of Postcolonial Studies at the University of Cambridge
'Cowan brings the very notion of a border into sharp focus in this meticulous and compassionate manifesto'

- Juno Mac, co-author of Revolting Prostitutes: The Fight For Sex Workers' Rights (Verso, 2020)
'Passionate and laser sharp, Cowan not only exposes how greed, racism and hypocrisy work over generations to wall people out of Britain but also gives us tools to dig tunnels under those walls'

- Professor Bridget Anderson, Director of Migration Mobilities Bristol and Professor of Migration, Mobilities and Citizenship, University of Bristol
'A fantastically succinct primer on the violence of our bordered world, and a powerful invitation to join with people at the sharpest end of that violence'

- Gracie Bradley, interim Director at Liberty
'Debunks the myths and misconceptions about immigration and who exactly profits from the system'

- Refinery29 UK
'A compelling and digestible resource which lays out the oppressive nature of Britain's borders and their history, and the tangible possibilities of resistance to them'

- The Face
'A brilliant and eye-opening read into the violent and oppressive nature of borders, and how we as a collective can move beyond a life with borders'

- Aurelia
'Sets out for us, not just the colonial histories that saw lines on the map drawn, but the murky world of profiteering that sees them maintained in the present'

- Huck
'We can, and should, all resist borders, and 'Border Nation' is a beautiful entry point into how to do it'

- Bad Form
'A short, sharp, incisive analysis of the colonial origins of borders, the violence of immigration control and the profit motive driving so much of immigration policy and practice'

- Right to Remain
Acknowledgements
Introduction: Why Break Down Borders?
1. In the Shadow of the British Empire
2. Whitewashing and the Myth of the Migrant 'Outsider'
3. Why Should Migrants Contribute?
4. Building Borders Through Headlines and Column Inches
5. Everyday Borders and 'de facto' Border Guards
6. The Violence of Detention and Deportation
7. Big Business and the 'Profit Motive' for Borders
8. Borderlands of Resistance
Conclusion: Living Beyond Borders
Published by Pluto Press in Mar 2021
Paperback ISBN: 9780745341071
eBook ISBN: 9781786807038