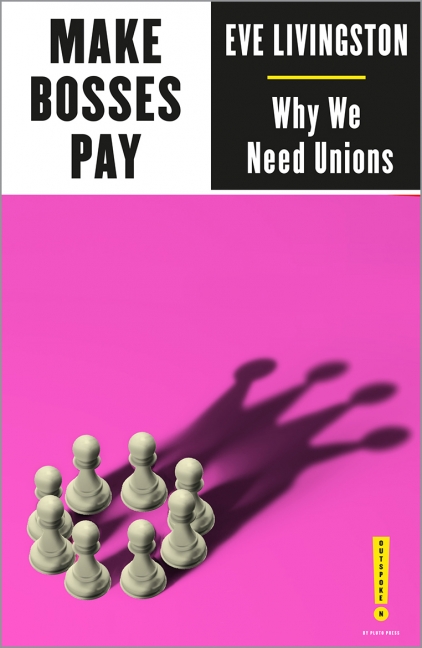 Think your union doesn't represent you? Then maybe it's time to change it.
With the world changing at breakneck speed and workers at the whim of apps, bad bosses and zero-hours contracts, why should we care about unions? Aren't they just for white-haired, middle-aged miners anyway?
The government constantly attacks unions, CEOs devote endless time and resources to undermining them, and many unions themselves are stuck in the past. Despite this, inspiring work is happening all the time, from fast food strikes and climate change campaigning to the modernisation of unions for the digital age. Speaking to academics, experts and grassroots organisers from TUC, UNISON, ACORN, IWGB and more, Eve Livingston explores how young workers are organising to demand fair workplaces, and reimagines what an inclusive union movement that represents us all might look like.
Working together can change the course of history, and our bosses know that. Yes, you need a union, but your union also needs you!
This book is part of our Outspoken by Pluto series.

Eve Livingston is a freelance journalist specialising in social affairs, politics and inequalities. She has written for the Guardian, Independent, VICE, Dazed and many others, and has appeared on the BBC and ITV. She was shortlisted for the 2019 Orwell Prize for Exposing Britain's Social Evils for her writing on trade unions.
'An eloquent and accessible blend of history, theory, and practical advice, 'Make Bosses Pay' is essential reading for the new working class. I want to hand this book to every young person starting out in work, and to a surprisingly large number of union leaders as well'

- Sarah Jaffe, author of 'Work Won't Love You Back' (Hurst, 2021)
'The pandemic has proved once again that unions are indispensable. Eve's book is a brilliant primer for people wanting to find out more about the movement and why they should join. But she is also clear throughout that unions could be doing more and better, particularly for the young workers who need them so badly in today's unfair economy'

- Frances O'Grady, General Secretary of the Trades Union Congress (TUC)
'A brave manifesto for trade unions at a pivotal moment in our history, expressed through voices from the frontlines of that fight. Eve's bold vision sends a powerful message to any worker who feels disempowered and alone: that you are not alone, that you are a leader and that your time to lead is now'

- Henry Chango Lopez, General Secretary, Independent Workers Union of Great Britain (IWGB)
'A call to arms for workers at the whim of apps, bad bosses and zero-hours contracts'

- 'i-D'
'As a beginner's guide to the value of collective campaigning in the workplace, Make Bosses Pay makes a compelling argument that may motivate an otherwise demoralised labour force'

- Sarah Manavis, 'New Statesman'
'A hugely optimistic book … part persuasive primer on worker organisation, part galvanising argument for union modernisation'

- Laura Waddell, 'The Scotsman'
'Ambitious in scope, sophisticated in argument, and draws from thorough research, all of which Livingston makes lively and accessible through her sharp, lucid prose'

- 'Bella Caledonia'
'A manifesto for the power of collective action in the workforce'

- Katie Goh, 'Huck'
'Searing … a forensic manifesto for unionism that advocates not just for what unions could be, but what they already are'

- 'The Skinny'
'Inspiring … an engaging and accessible primer on the necessity of working class power and how a union movement is capable of liberating all workers from capital's relentless grip'

- 'Real Change News'
Acknowledgements
Introduction
1. Why unions?
2. Your union isn't rubbish, it's disempowered
3. Resisting the gig economy
4. Beyond equality and diversity: The case for a liberatory unionism
5. HR are not your friends
6. Transcending the workplace
7. Power up: Organising in the digital age
8. Reimagining union democracy
9. Organising hospitality: A toolkit for the future
Conclusion: How unions change our lives
Resources
Published by Pluto Press in Sep 2021
Paperback ISBN: 9780745341620
eBook ISBN: 9781786808417
Audiobook ISBN: 9780745348476