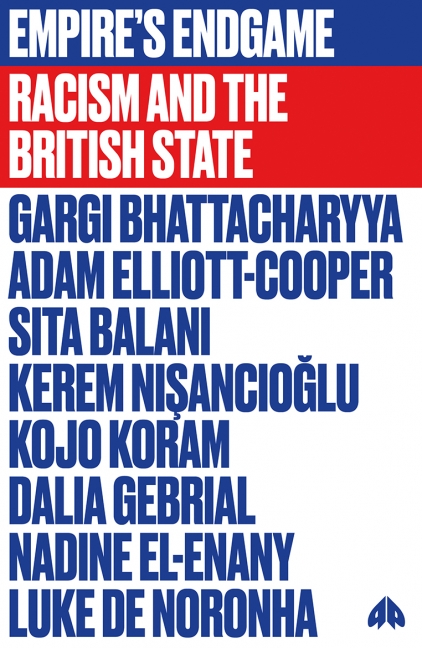 Empire's Endgame
Racism and the British State
Series: FireWorks
An insightful analysis examining race, the state, the media and criminalisation in Britain
'Rigorous, impassioned and urgent' - Ash Sarkar
We are in a moment of profound overlapping crises. The landscape of politics and entitlement is being rapidly remade. As movements against colonial legacies and state violence coincide with the rise of authoritarian regimes, it is the lens of racism, and the politics of race, that offers the sharpest focus.

In Empire's Endgame, eight leading scholars make a powerful intervention in debates around racial capitalism and political crisis in Britain. While the 'hostile environment' policy and Brexit referendum have thrown the centrality of race into sharp relief, discussions of racism have too often focused on individual behaviours. Foregrounding instead the wider political and economic context, the authors trace the ways in which the legacies of empire have been reshaped by global capitalism, the digital environment and the instability of the nation-state.

Engaging with movements such as Black Lives Matter and Rhodes Must Fall, Empire's Endgame offers both an original perspective on race, media, the state and criminalisation, and a political vision that includes rather than expels in the face of crisis.
Gargi Bhattacharyya is Professor of Sociology at University of East London. She is the author of Rethinking Racial Capitalism (Rowman & Littlefield, 2018), Dangerous Brown Men (Zed, 2008) and Traffick (Pluto, 2005).
Adam Elliott-Cooper is a Researcher in Social Sciences at Greenwich University. He is the author Black Resistance to British Policing (MUP).
Sita Balani is a lecturer in contemporary literature and culture at King's College London. She is the author of Deadly and Slick: How Sex makes Race in Postcolonial Britain (Verso, 2021).
Kerem Nişancıoğlu is a Lecturer in International Relations at SOAS, University of London. He is the co-author of How the West Came to Rule (Pluto, 2015), and co-editor of Decolonising the University (Pluto, 2018). He also blogs at The Disorder of Things.
Kojo Koram is a lecturer at the School of Law at Birkbeck College, University of London. He is the editor of The War on Drugs and the Global Color Line (Pluto, 2019).
Dalia Gebrial is the editor of a special issue of the Historical Materialism journal on identity politics and co-editor of Decolonising the University (Pluto, 2017).
Nadine El-Enany is Senior Lecturer in Law at Birkbeck School of Law and Co-Director of the Centre for Research on Race and Law, and the author of Bordering Britain: Law, Race and Empire (MUP, 2020).
Luke de Noronha is lecturer at the Sarah Parker Remond Centre (UCL) and author of Deporting Black Britons: Portraits of Deportation to Jamaica (MUP, 2020).​
'Rigorous, impassioned and urgent, this book punctures the puffed-up nationalist swagger of our government with an incisive critique of post-imperial decline'

- Ash Sarkar, journalist, activist and Senior Editor at Novara Media
'A metaphorical molotov from beyond the barricades'

- Lowkey, rapper and activist
'Challenges us to step outside of the tempo of the hot-take and the electoral cycle to look beyond party-political rows. As training, allyship and inclusion increasingly become the favoured response to Black Lives Matter, the book invites us to build the relationships and structures of care so necessary for a collective freedom'

- Gracie Bradley, Interim Director at Liberty
'A new and much-needed analysis of the confluence of race, government, and the media during these turbulent times'

- Democratic Left
Series Preface
Preface
Introduction: Racialised Mythologies in Times of Neglect, Cruelty and Expulsion
PART 1 - RACIALISING THE CRISIS
1. Windrush
2. 'Knife Crime': Prevention and Order
3. Gang Land
PART 2 - THE PERSISTENCE OF NATIONALISM
4. Nationalist Convulsions
5. Progressive Patriotism
6. The Limits of Representation
PART 3 - STATE PATRIARCH
7. Our Heart Belongs to Daddy
8. 'Pakistani Grooming Gangs'
9. (Powerful) Men Behaving Badly
PART 4 - SEND IN THE ARMY
10. Longing for Authority
11. Militarisation on the Mainland
12. Zero-sum Game
PART 5 - WHAT NOW?
13. Covid-19: A Real Crisis
14. Shared Grief, Hope and Resistance
Notes
Index
Published by Pluto Press in Feb 2021
Paperback ISBN: 9780745342047
eBook ISBN: 9781786807632