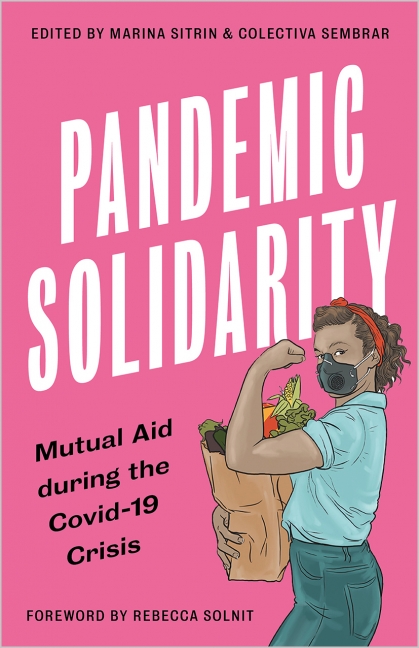 Pandemic Solidarity
Mutual Aid during the Covid-19 Crisis
Series: FireWorks
What happens when our society is faced with an existential crisis?
In times of crisis, when institutions of power are laid bare, people turn to one another. Pandemic Solidarity collects firsthand experiences from around the world of people creating their own narratives of solidarity and mutual aid in the time of the global crisis of COVID-19.

The world's media was quick to weave a narrative of selfish individualism, full of empty supermarket shelves and con-men. However, if you scratch the surface, you find a different story of community and self-sacrifice. Looking at eighteen countries and regions, including India, Rojava, Taiwan, South Africa, Iraq and North America, the personal accounts in the book weave together to create a larger picture, revealing a universality of experience.

Moving beyond the present, these stories reveal what an alternative society could look like, and reflect the skills and relationships we already have to create that society, challenging institutions of power that have already shown their fragility.
Marina Sitrin is an Assistant Professor of Sociology at SUNY Binghamton, New York. She is the author of Horizontalism: Voices of Popular Power in Argentina (AK Press, 2006); Everyday Revolutions: Horizontalism and Autonomy in Argentina (Zed Books, 2012), the co-author of They Can't Represent US! Reinventing Democracy from Greece to Occupyo, 2014).
Just what we need so desperately in this moment. ... A beautiful and important book. - John Holloway
Foreword by Rebecca Solnit
Introduction: Marina Sitrin
About Colectiva Sembrar
1.Greater Middle East
Rojava: Khabat Abbas and Emre Sahin
Turkey: Seyma Ozdemir
Iraq: Midya Khudhur
2. South and East Asia
Taiwan: Chia-Hsu Jessica Chang
South Korea: Ji Young Shin (Translated by Han Gil Jang)
India: Debarati Roy
3. Southern Africa
South Africa, Namibia and Mozambique: Boaventura Monjane
4. Europe
Portugal: Lais Gomes Duarte and Raquel Lima
Italy: Eleanor Finley
Greece: EP & TP
UK: Neil Howard
5. Turtle Island (North America)
Canada, the USA and Mexico: Magalí Rabasa and Carla Bergman with Ariella Patchen and Seyma Ozdemir
6. South America
Argentina: Nancy Viviana Piñeiro and Liz Mason-Deese
Brazil: Vanessa Zeteler
Concluding to Begin: Marina Sitrin
Published by Pluto Press in Jun 2020
Paperback ISBN: 9780745343167
Hardcover ISBN: 9780745343174
eBook ISBN: 9780745343181