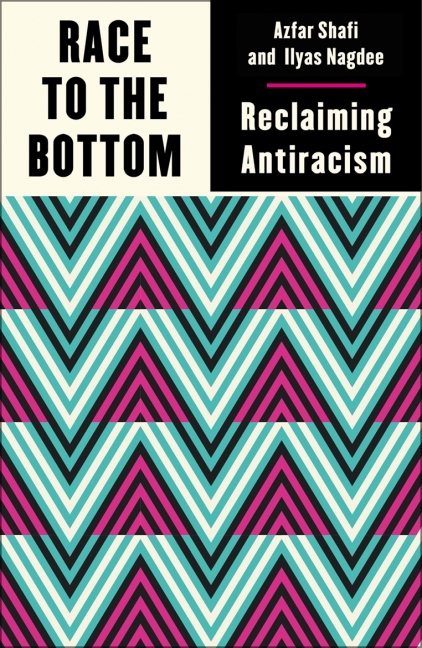 Race may be 'on the agenda' – but we need to build our own powerful and political organisations
Antiracist movements are more mainstream than ever before. Liberal democracies boast of their policies designed to stamp out racism in all walks of life. Why then is racism still ever-present in our society?
This is not an accident, but by design. Capitalism is structured by racism and has relentlessly attacked powerful movements. Race to the Bottom traces our current crisis back decades, to the fragmentation of Britain's Black Power movements and their absorption into NGOs and the Labour Party.
The authors call for recovering radical histories of antiracist struggle, championing modern activism and infusing them with the urgency of our times: replacing anxieties over 'unconscious bias' and rival claims for 'representation' with the struggle for a new, socialist, multi-racial organising from below.
Azfar Shafi is a researcher and organiser with a focus on policing, counter-terrorism and imperialism. He has been published by the Transnational Institute and Novara Media, and organised in movements against racism, state violence and for the Palestinian liberation struggle.
Ilyas Nagdee is an activist and writer focusing on anti-racism, civil liberties and policing. He has written for the Independent, Guardian and HuffPost, and has appeared on BBC, ITV and Sky News.
'In their searing critique of superficial anti-racism, Shafi and Nagdee offer fresh insights into the ideas and actions of Britain's radical anti-racist internationalism'

- Adam Elliott-Cooper, author of 'Black Resistance to British Policing'
'Finally, a book that cuts through all the liberal conceits about diversity, representation and privilege to reconnect with Britain's radical histories of anti-racist struggle'

- Arun Kundnani, author of 'The Muslims are Coming!'
'A sharp piece of political analysis that provides encouragement and direction to a new generation of anti-racist rebels. You can feel their sense of urgency in every page'

- Liz Fekete, Director at the Institute of Race Relations
'Fiery [...] A tour of British anti-racism, explaining where it goes wrong and where it goes right, providing an irresistible invitation to mass, collective, and organised revolt'

- Luke de Noronha, lecturer in Race, Ethnicity and Postcolonial Studies at UCL and co-author of 'Empire's Endgame'
'A biting book that analyses the history of antiracist activism without romance or malice. A deep and energising call for us to act decisively on our present'

- Gracie Mae Bradley, co-author of 'Against Borders' and ex-Director of Liberty
'For everyone longing for that other tradition of antiracism - the one whose authors don't make it onto the Queens' birthday honours list - read this breathtakingly exciting account of how our enemies are the same, all the struggles are linked and how, together, we can and must remake an antiracism from below'

- Gargi Bhattacharyya, author of 'Dangerous Brown Men' and co-author of 'Empire's Endgame'
'The anti-racism of Shafi and Nagdee is thrillingly uncompromising in its recall of anti-capitalist, working class and community-based but internationalist roots. A must-read for anyone invested in the utopic vision and promise that anti-racism necessarily nurtures'

- Sivamohan Valluvan, author of the 'Clamour of Nationalism'
'The kind of radical refocusing we need, taking stock not only of how anti-racism is being defanged, but also its promise of a global reckoning which changes everything. Every anti-racist in Britain needs a copy'

- Joshua Virasami, author of 'How to Change It'
'At a time when antiracism runs the risk of being reduced to vibes and t-shirts, Shafi and Nagdee's distinctly radical and avowedly internationalist call to arms provides the necessary political education radicals need to make 'those in power afraid again''

- Alana Lentin, Professor of Cultural and Social Analysis at Western Sydney University and the author of 'Why Race Still Matters'
'A tour de force. By re-centring an internationalist anti-capitalism, Nagdee and Shafi recover some of the most important contributions of Black power and Third World liberation movements, reviving them for use by the current generation'

- Dalia Gebrial, contributing presenter at Novara Media and co-author of Empire's Endgame
Acknowledgements
Introduction
1. Race, racism and racialisation
2. Rise of Black power in Britain
3. 1981 and the road to antiracism from above
4. Antiracism as status quo
5. New modes of organising: Culture, community and crisis
6. Between rebellion and reaction
7. The other internationalism
8. Policing and surveillance today
9. Advancing the fight?
10. Reorienting the struggle
Conclusion: Recovering antiracism
Published by Pluto Press in Jun 2022
Paperback ISBN: 9780745344676
eBook ISBN: 9780745344690