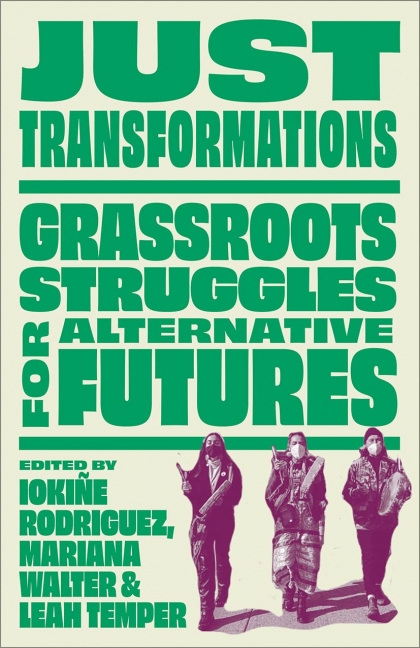 Just Transformations
Grassroots Struggles for Alternative Futures
How can societies be transformed in the interests of environmental sustainability from the ground up?
The climate crisis is the greatest existential threat humanity faces today. The need for a radical societal transformation in the interests of social justice and ecological sustainability has never been greater. But where can we turn to find systemic alternatives?

From India, Turkey and Bolivia, to Venezuela, Canada and Lebanon, Just Transformations looks to local environmental struggles for the answers. With each case study grounded in the social movements and specific politics of the region in question, this volume investigates the role that resistance movements play in bringing about sustainable transformations, the strategies and tools they utilise to overcome barriers, and how academics and grassroots activists can collaborate effectively.

The book provides a toolkit for scholar-activists who want to build transformative visions with communities. Interrogating each case study for valuable lessons, the contributors develop a conceptualisation of a just transformation that focuses on the changes that communities themselves are trying to produce.
An open access ebook edition is also available, here.
Dr. Iokiñe Rodríguez is Senior Lecturer at the University of East Anglia. She is co-founder of Grupo Confluencias, a consortium of Latin American conflict transformation practitioners, researchers and institutions that work on platforms for deliberation, joint research and training in this area. As a researcher in the ACKnowl-EJ project (Activist-academic Co-production of Knowledge for Environmental Justice), her work focuses on issues of local knowledge, power, environmental justice, equity and intercultural dialogue.
Dr. Mariana Walter is a Political Ecologist and Ecological Economist based at the Institute of Sciences and Technologies of the Autonomous University of Barcelona. Her research has been published in books and journals such as Sustainability Science, Global Environmental Change, Geoforum, Ecological Economics, Land Use Change and Local Environment. She is currently the Scientific Project Manager for the Academic-Activist Co-Produced Knowledge for Environmental Justice Project.
Leah Temper is an ecological economist, scholar-activist and filmmaker based at McGill University and the Autonomous University of Barcelona. She is the founder and co-director of the Global Atlas of Environmental Justice, an initiative mapping ecological conflicts and spaces of resistance around the world, and Research Associate for the Leadership for the Ecozoic program. She is currently Principal Investigator of the ACKnowl-EJ project (Activist-academic Co-production of Knowledge for Environmental Justice).
'A hugely important book, setting a radical agenda for societal transformation. Drawing on grassroots alternatives from across the world, the book offers a vital guide for both scholars and activists. Everyone committed to just transformations for sustainability should read this book now!'

- Ian Scoones, Professor, Institute of Development Studies, University of Sussex
'A fantastic collection that illustrates that just transformations are already being imagined and implemented on the ground. The authors offer an important, creative example of genuine scholar-activism keenly focused issues of justice, power, and the transformative potential of EJ.'

- David Schlosberg, Professor of Environmental Politics and Director, Sydney Environment Institute, University of Sydney
'A splendid collective book co-produced by an impressive international group of twenty-five socio-environmental academics and activists ... focusing both on the alternatives that are born from the resistance to extractivism or pollution, and on sustainable practices such as community textile production. Building on detailed knowledge of the local protagonists and issues, this optimistic, inspiring book jumps scales to national and international dimensions.'

- Joan Martinez-Alier, Institute of Environmental Science and Technology, Universitat Autnoma de Barcelona
Introduction
Part I: Our approaches and methods for engaging with transformations

1. Co-production of Knowledge for Environmental Justice: Key Lessons, Challenges and Approaches in the ACKnowl-EJ Project (by Lena Weber, Mariana Walter, Leah Temper and Iokiñe Rodríguez)
2. A Conversation on Radical Transformation Frameworks: From Conflicts to Alternatives (by Arpita Lulla, Iokiñe Rodríguez, Mirna Inturias and Ashish Kothari)
Part I: Analysing transformations from and with environmental justice movements
Section 1: Double Movements Against State and Market
3. 'Mirror, Mirror on the Wall': A Reflection on Engaged Just Transformations Research under Turkey's Authoritarian Populist Regime (by Begüm Özkaynak, Ethemcan Turhan, Cem İskender Aydın)
4. Games of Power in Conflicts over Extractivism in Canaima National Park, Venezuela (by Iokiñe Rodríguez and Vladimir Aguilar)
5. Lebanon and the 'Trash Revolution':- Constraints, Challenges, and Opportunities to Transformation: 2015 Onwards (by Rania Masri)
Section 2: From Individual to Institutional Transformations 
6. Free the Keelbeek from the Prison! A Deep Analysis of the Individual and Collective Empowerment Within the Resistance Movement against the Brussels Mega-prison Project (by Jérôme Pelenc)
7. Raika Women Speak. (by Meenal Tatpati and Shruti Ajit)
8. Transformative Environmental Conflicts:- The Case of Struggles against Large-scale Mining in Argentina (by Mariana Walter and Lucrecia Wagner)
Section 3: Enacting Counter-hegemonic Alternative Politics, Economics and World views
9. The Monkoxi from Lomerío, Bolivia: On the Road to Freedom Through Nuxiaká Uxia Nosibóriki (by Mirna Inturias, Iokiñe Rodríguez, Miguel Aragón, Elmar Masay and Anacleto Peña)
10. On the Cusp:- Reframing Democracy and Well-Being in Korchi. (by Neema Pathak Broome, Shrishtee Bajpai and Mukesh Shende)
11. Transformative Strategies Forged on the Frontlines of Environmental Justice and Indigenous Land Defence Struggles in So-called Canada (by Jen Gobby and Leah Temper)
12. Sandhani: Transformation Among Handloom Weavers of Kachchh, India. (by Kalpavriksh and Khamir)
Part III: Lessons from ground up transformations
13. Towards a Just Transformations Theory. (by Ashish Kothari, Leah Temper, Iokiñe Rodríguez, Mariana Walter, Begüm Özkaynak, Rania Masri, Mirna Inturias, Adrian Martin, Ethemcan Turhan, Neema Pathak Broome, Shrishtee Bajpai, Jen Gobby, Jérôme Pelenc, Meenal Tatpati and Shruti Ajit)
14. Take-Aways for Environmental Justice Movements. (by Leah Temper, Mariana Walter and Iokiñe Rodríguez)
Notes on Contributors
Index
Published by Pluto Press in Dec 2023
Paperback ISBN: 9780745344775