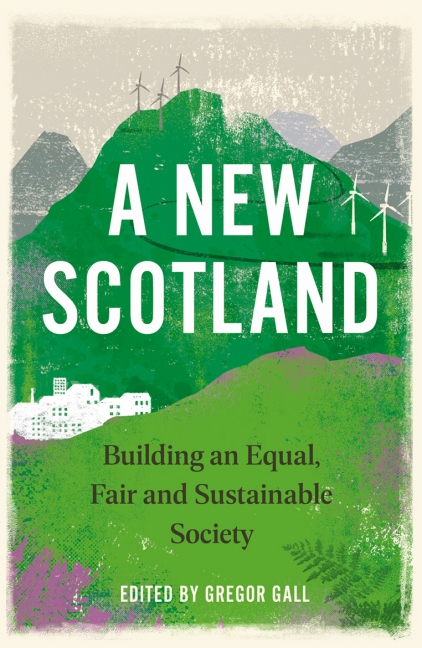 A New Scotland
Building an Equal, Fair and Sustainable Society
Looking beyond devolution and independence, how can we construct a brighter future for Scotland? 
Inequality and unfairness still stalk Scotland after more than twenty years of devolution. Having done little to shield against austerity, Brexit and an increasingly right-wing Westminster agenda, calls for further constitutional reform to solve pressing political, economic and social problems grow ever louder. The debate over further devolution or independence continues to split the population.
In A New Scotland, leading activists and academics lay out the blueprints for radical reform, showing how society can be transformed by embedding values of democracy, social justice and environmental sustainability into a coherent set of policy ideas.
Structured in two parts, the book takes to task the challenges to affect radical change, before exploring new approaches to key questions such as healthcare, education, public ownership, race, gender and human rights.
Gregor Gall is editor of the Scottish Left Review and director of the Jimmy Reid Foundation. He is author and editor of over twenty books.
'The push for Scottish devolution came with a well-respected agenda for political reform. What would be the equivalent agenda for Scottish independence? This book provides an impressive list of ways to connect constitutional change to social justice reform'

- Paul Cairney, Professor of Politics and Public Policy, University of Stirling
'An important contribution to the debate about the state of our society. It comes against a backdrop of rising social and economic inequality, class division and poverty impacting on too many of our fellow citizens'

- Neil Findlay, former councillor in West Lothian and Labour MSP
'A refreshing and challenging antidote to the stale arguments currently dominating Scottish politics. It roots debate firmly in the search for equality, fairness and sustainability with an impressive array of contributors, ideas and critiques'

- James Mitchell, Professor of Public Policy at the University of Edinburgh
List of Figures
Acknowledgements
About the Jimmy Reid Foundation (JRF)
Foreword - Rozanne Foyer (Scottish Trades Union Congress)
Introduction: Social Justice in Scotland - Gregor Gall
Part I: Key Issues
1. The Structural Development of Poverty and Inequality - Carlo Morelli (University of Dundee) and Gerry Mooney (Open University Scotland)
2. Towards Climate Justice - Mary Church (Friends of the Earth Scotland), Niamh McNulty (Climate Camp Scotland) and Eurig Scandrett (Queen Margaret University)
3. Neoliberalism and Scotland - George Kerevan (former SNP MP)
4. Economic Democracy and Public Participation - Andrew Cumbers (University of Glasgow) and Robert McMaster (University of Glasgow)
5. Re-thinking Public Ownership for an Independent Scotland - Alex de Ruyter (Birmingham City University) and Geoff Whittam (Glasgow Caledonian University)
6. Can Democracy Go Hand-in-Hand with Efficiency? - David Erdal (author on employee ownership) and John Bratton (sociologist)
Part II: Policy Areas
7. Towards an Effective Right to Housing in Scotland - Regina Serpa (University of Stirling) and Emma Saunders (housing campaigner)
8. Creating a Healthier Scotland - Iain Ferguson (University of the West of Scotland) and Gerry McCartney (University of Glasgow)
9. Improving Learning: Education after the Pandemic - Brian Boyd (University of Strathclyde), Larry Flanagan (EIS union), Henry Maitles (University of the West of Scotland) and Mary Senior (UCU union)
10. Income, Wealth and Inequality in Scotland - Mike Danson (Heriot-Watt University) and Francis Stuart (Scottish Trades Union Congress)
11. Fiscal Policy in Scotland: Under Devolution and Under Independence - Jim Cuthbert (Scottish Office Chief Statistician, retired)
12. Governing Scotland - Robin McAlpine (Common Weal), James Henderson (independent researcher) and Claire Bynner (University of Glasgow)
13. Decent Work in Scotland: A Charter for Change - Jane Carolan (Institute of Employment Rights Scotland), Ruth Dukes (University of Glasgow) and Eleanor Kirk (University of Glasgow)
14. Alienation and Exclusion to Empowerment and Inclusion? Human Rights in Scotland - Carole Ewart (independent consultant), Janis McDonald (human rights campaigner) and Sean Whittaker (University of Dundee)
15. Towards Gender Justice: Enhancing Participation, Reimagining Economics and Ending Gender-based Violence - Kirsty Alexander (University of Strathclyde) and Jenny Morrison (University of Glasgow)
16. Race and Migration in Scotland - Gareth Mulvey (University of Glasgow), Talat Ahmed (University of Edinburgh) and Colin Clark (University of the West of Scotland)
17. Land Ownership and Community Development - Mike Danson (Heriot-Watt University) and Craig Dalzell (Common Weal)
18. Confounding the Capitalist Car-centric Culture - Caitlin Doyle Cottrill (University of Aberdeen), Ellie Harrison (Bring Back British Rail and Get Glasgow Moving) and David Spaven (railway author)
Part III: Political Practice
19. Leisure and culture - Kathryn A. Burnett (University of the West of Scotland) and Douglas Chalmers (Glasgow Caledonian University)
20. Radical Scotland - Rory Scothorne (University of Edinburgh) and Ewan Gibbs (University of Glasgow)
21. Social Democracy and Labourism - Alex Law (University of Abertay) and Kenny MacAskill (Alba MP)
22. 'The People's Parliament', Political Classes and 'The Missing Scotland' - Gerry Hassan (Glasgow Caledonian University) and Hannah Graham (University of Stirling)
23. Community Campaigns: the Power to Change - Willie Sullivan (Electoral Reform Society Scotland), Lynn Henderson (PCS union), Linda Somerville (Scottish Trades Union Congress) and Ruth Lightbody (Glasgow Caledonian University)
24. Constitutional Conundrums: Is There Still a Third Way? - Michael Keating (University of Aberdeen)
Afterword: From National to Local - Dave Watson (former Head of Policy and Campaigns at UNISON Scotland)
Contributors' Biographies
Index
Published by Pluto Press in May 2022
Paperback ISBN: 9780745345062
eBook ISBN: 9780745345086