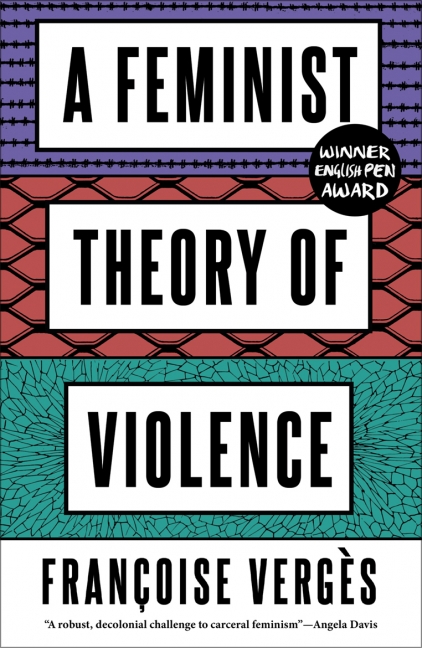 A Feminist Theory of Violence
A Decolonial Perspective
The State will not protect us from gender violence. Our feminism must be anti-racist and decolonial, and must fight for everyone's safety
'Powerful and uncompromising' - Terrafemina
The mainstream conversation surrounding gender equality is a repertoire of violence: harassment, rape, abuse, femicide. These words suggest a cruel reality. But they also hide another reality: that of gendered violence committed with the complicity of the State.
In this book, Françoise Vergès denounces the carceral turn in the fight against sexism. By focusing on 'violent men', we fail to question the sources of their violence. There is no doubt as to the underlying causes: racial capitalism, ultra-conservative populism, the crushing of the Global South by wars and imperialist looting, the exile of millions and the proliferation of prisons – these all put masculinity in the service of a policy of death.
Against the spirit of the times, Françoise Vergès refuses the punitive obsession of the State in favour of restorative justice.
Françoise Vergès is a political scientist, activist, historian, film producer and public educator. She is the author of A Decolonial Feminism, A Feminist History of Violence and the forthcoming A Programme of Absolute Disorder. She is also a senior research fellow at the Sarah Parker Remond Centre for the Study of Racism and Racialisation, UCL.
Melissa Thackway is an independent researcher and translator. She lectures in African Cinema at Sciences-Po and INALCO in Paris. Her recent translations include A Feminist Theory of Violence by Françoise Vergès, Contemporary African Cinema by Olivier Barlet, Tropical Dream Palaces: Cinema-Going in Colonial West Africa by Odile Goerg and African Diasporic Cinema: Aesthetics of Reconstruction by Daniela Ricci.
'In this robust, decolonial challenge to carceral feminism, Francoise Vergès elucidates why a structural approach to violence is needed. If we wish to understand how racial capitalism is linked to the proliferation of intimate and state violence directed at women and gender-nonconforming people, we need to look no further than Vergès' timely analysis'

- Angela Y. Davis, Distinguished Professor Emerita, University of California, Santa Cruz
'A powerful and uncompromising text … A stunning reflection on the recurrence of assault – gender-based, sexual, racial violence'

- 'Terrafemina'
'An important and courageous book, which raises difficult questions and uncovers invisible structures of domination'

- 'Trou Noir'
'Vergès's incandescent writing casts a light on the global inequalities, brutal carceral systems, unfettered militarisation and punitive ideologies that shape violent intimacies'

- Laleh Khalili, Professor of International Politics, Queen Mary University of London
'A call to join in the urgent decolonial feminist work of rethinking the practices of (so-called) protection outside of the logics of violence. We have the ability, Vergès insists, to enact a post violent society, to bring another world into being'

- Christina Sharpe, Canada Research Chair in Black Studies in the Humanities at York University, Toronto and author of 'In the Wake: On Blackness and Being'
'A road map of radical emancipatory imaginaries for shaping urgent social and political change. Vergès' arguments rise from the ground up, from the lived experience of grassroots dissent, action and mobilisation against the wounds and damages inflicted by extractive capitalism across the world'

- Rasha Salti, curator of art and film
'Françoise Vergès asks a simple question: what actually is the politics of protection? What she reveals is a paradigm spinning analysis. Once she establishes the perspective of people without power, the 'protection' offered by the state and the meta-state of global capital, is exposed as a killing machine of enforcement and endless punishment. A door opening work'

- Sarah Schulman, author of 'The Gentrification of the Mind' and 'Let the Records Show: A Political History of ACT UP'
'Vergès' book avoids both the trap of disavowing the feminist project entirely while refusing to ally herself with the destructive, ongoing elite capture of feminist politics ... the book performs a necessary cataloging function and offers an international perspective for English-language readers tempted toward American chauvinism in the fight against global racial capitalism'

- 'The New Inquiry'
Introduction
1. Neoliberal Violence
2. Race, Patriarchy, and the Politics of Women's Protection
3. Punitive Feminism, an Impasse
Conclusion - For a Decolonial Feminist Politics
Notes
Published by Pluto Press in Apr 2022
Paperback ISBN: 9780745345673
eBook ISBN: 9780745345697
Audiobook ISBN: 9780745347745