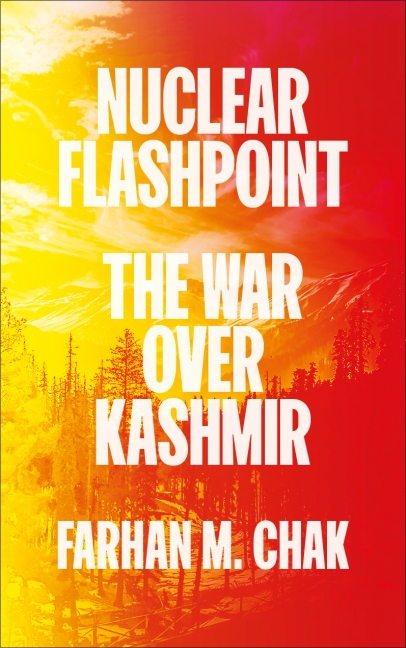 Nuclear Flashpoint
The War Over Kashmir
An alternative account of the Kashmir conflict centring the voices of the Kashmiris
The territory of Jammu and Kashmir is one of the most politically contested and heavily militarised spaces on the planet. It has long been presented as an 'internal dispute', mainly by India, in attempts to sustain power through the project of settler colonialism. In this context, Kashmiri voices are rarely heard and so the conflict remains little understood, with a resolution nowhere in sight.
In Nuclear Flashpoint, Farhan Chak reveals how the history, culture, identity and the will of the people of Kashmir has been deliberately obscured to suit ideological agendas. He explores six unique time frames in Kashmiri history - from ancient Kashmir, through the British Raj, to present day. Asking 'who is a Kashmiri?', Chak reviews major misconceptions and exposes how vested interests articulate and interpret them.
Chak shines a light on the long cycle of revolt that continues in resistance movements today, and asks us to reconsider Kashmir's ongoing quest for independence.
Dr. Farhan M. Chak is the Secretary-General of Kashmir Civitas, an international civil society NGO committed to ending the military occupation of the disputed territory of Jammu and Kashmir. He is Associate Professor of Political Science and International Affairs and author of Islam and Pakistan's Political Culture.
'Repeated clashes between India, Pakistan and China over Kashmir threaten to erupt into a nuclear conflict that might kill as many as 120 million in India and Pakistan, and perhaps several 1000 million worldwide. These disputes need to be resolved, which requires understanding their origins, the people of Kashmir and their struggles, and recent changes in the region. Nuclear Flashpoint provides essential insight into these issues for all who are concerned.'

- Professor Brian Toon, University of Colorado Boulder
'An urgent and trenchant examination of Kashmir. Beautifully meshing history with modern political analysis, Chak masterfully interrogates ... the intersecting flashpoints that make the Kashmir crisis one of the most politically sensitive issues in modern world history. Beyond intellectual examination, Chak injects first-hand insights as a scholar, advocate and ancestral Kashmiri to offer a richness that few other books provide - bringing intimacy and empathy to words that spring colorfully from the pages.'

- Khaled A. Beydoun, Law Professor and author of 'The New Crusades: Islamophobia and the Global War on Muslims'
'Institutionalized systemic racial persecution ... against the people of Kashmir has pushed the world to the edge of nuclear conflict. Torture, unlawful killings and the denial of basic human rights and freedoms are well-documented by Amnesty, Human Rights Watch and others. Dr. Chak's skillful analysis explains just how this unresolved crisis threatens global peace.'

- Ilyasah Shabbazz, educator and author of 'Growing Up X: A Memoir by the Daughter of Malcolm X'
1. Introduction
2. Who Are the Kashmiris? Resisting Post-Colonial Identity Theft and False Narratives
3. The Long Life Cycle of Resistance
4. Jammu Genocide
5. The Myth of Partition
6. India, Islamophobia, and the Hindutva Playbook
7. The 'Final Solution': Abrogation of Articles 370 and 35A
8. Nuclear Flashpoint: Sino-Indian Rivalry and Kashmir
9. Conclusion
Notes
Index
Published by Pluto Press in Nov 2023
Paperback ISBN: 9780745346168
eBook ISBN: 9780745346182