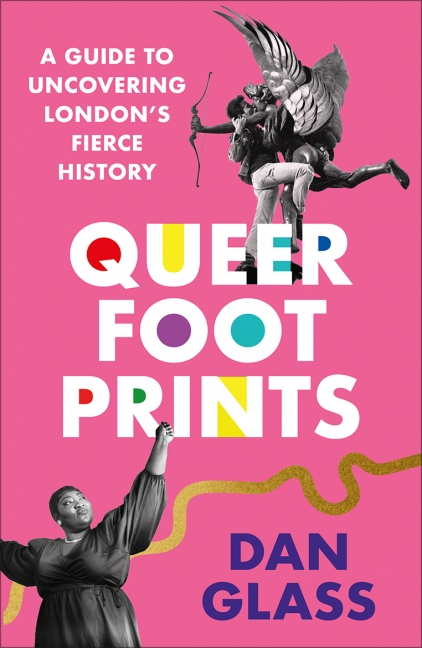 Queer Footprints
A Guide to Uncovering London's Fierce History
Walk in our queer elders' footprints in this guide full of humour, joy, pathos and mischief
This groundbreaking guide will take you through the city streets to uncover the scandalous, hilarious and empowering events of London's queerstory. Follow in the footprints of veteran activists, such as those who marched in London's first Pride parade in 1972 or witnessed the 1999 bombing of the Admiral Duncan pub in Soho.

Accompanied by a chorus of voices of both iconic and unsung legends of the movement, readers can walk through parts of East, West, South and North London, dipping into beautifully illustrated maps and extraordinary tales of LGBTQIA+ solidarity, protest and pride. The shadows of gentrification, policing, homophobia and racism are time and again resisted.

From the Brixton Fairies to Notting Hill Carnival to world-changing protests in Trafalgar Square, Rebel Dykes to drag queen communes, Queer Footprints celebrates the hidden histories of struggle and joy. Including an accessibility guide and a list of these gems for your pleasure - queer spaces, clubs, networks and resources galore.
Dan Glass is an AIDS Coalition to Unleash Power (ACT UP) healthcare and human rights activist, performer, presenter and writer. Dan has been recognised as 'Activist of the Year' with the Sexual Freedom Awards and was announced a 'BBC Greater Londoner' for founding Queer Tours of London - A Mince Through Time. His book United Queerdom: From the Legends of the Gay Liberation Front to the Queers of Tomorrow was Observer book of the week. Dan recently founded self-defence empowerment programme Bender Defenders and Queer Night Pride to confront rising hate crime. Follow him @danglassmincer.
'An incredibly powerful exploration of a London that has been deliberately hidden, by one of the most courageous and insightful activists we have'

- Owen Jones, author of 'Chavs'
'This electrifying book is an adventure book through London's untold queer past. Every page is packed with inspiring, moving and downright hilarious secrets just itching to be uncovered, and with the riotously entertaining Dan Glass as your mincing tour guide, you'll have an absolute blast as you do. A word of warning: after reading this, London will never seem the same again'

- Sam Arbor, Director's Assistant on 'Heartstopper'
'The strength and the beauty of this book is its resolute and joyful nod to queer history, the multiplicity of our stories and the ongoing, transformative process of our queer footprints which continue to add layers onto the city I was lucky enough to grow up in. London, through the eyes of Glass, is ever-changing but always radical'

- Juno Roche, writer
'Offers a fascinating, lively and revealing look into the capital's queer past. Like the winding streets themselves, there is something surprising at every turn. This is a queer look at London with a Capital Q and is by turns intimate, gossipy, personal and political. Glass represents a vital link between the important activists who helped shape the world we live in and those who would shape the future and is a charming, knowledgeable and amenable tour guide.'

- Joseph Galliano, Director of Queer Britain, the national LGBTQ+ museum
'Your back pocket guide to our queer/LGBTQIA+ histories, full of joy and ammunition to claim without any shame our beautiful queer futures.'

- Tash Walker, host of The Log Books podcast and Co-Chair of Switchboard LGBT+ Helpline (2018 - 2022)
'Glass has used his vast experience as a campaigner to create something dizzyingly energetic. His writing isn't just informative; it compels you to act.' 

- Darren McGarvey, Orwell Prizewinning author of Poverty Safari
'Dan Glass is a charming raconteur, grass-roots historian, people lover and pleasure seeker who delights in guiding us from pick-ups to pinkwashing through the queer London that he loves. He lets both the neophyte and the experienced City dweller discover the magic anew'

- Sarah Schulman, author of 'The Gentrification of the Mind' and 'Let the Records Show: A Political History of ACT UP'
'Dan Glass, London's unofficial queer mayor, takes you bar and history hopping through former gay ghettos and new queer spaces. The oral histories Glass obtained from those who were there, much like hidden gems on less travelled side streets, bring his guide to vibrant life'

- Peter Staley, early and influential activist with ACT UP
'Dan's enthusiasm and passion for LGBTQIA+ culture is relentless. It is impossible to read this book without being swept up into the legend of London's Queer history of resistance, solidarity and downright fabulosity. By the end of this book you will be marching on the streets in a thong'

- Stacey Clare, author of 'The Ethical Stripper: Sex, Work and Labour Rights in the Night-time Economy'
'From coming out on Old Compton Street to soul-fire fights in Brixton, finding Heaven under the Arches to ACT UP protests in the streets, Dan Glass has curated a manifesto and maps for 'queerdos' across London. You will find freedom in these minces!'

- Amin Ghaziani, Professor of Sociology, University of British Columbia, Canada
'There are remarkable books and then there is Queer Footprints. Highly informative, witty, candid and steeped in historical detail, Dan Glass serves as the bobbin in the weaving process of herstories, bringing you an immersive reading experience which makes necessary the act of radical love. This book will be used to celebrate and honour the forebears of queer movements whose lives have afforded much of the liberties enjoyed today, as well as reminding us that the fight against injustice is far from over. Whether you're a Londoner, a visitor or someone who's never stepped foot in the city, Queer Footprints will enrich your knowledge of queer history'

- Katlego Kai Kolanyane-Kesupile, writer, artist and queer activist
'An exuberant pilgrimage through space and time into the radiant heart of queer history'

- Uli Lenart, Gay's The Word bookshop
'A truly rewarding read, full of insights and knowledge and intertwined with anecdotes from those who were there. The book is a goldmine for those interested in finding out about the queer history of the streets of London'

- Gillian Murphy, Curator for Equality, Rights and Citizenship, London School of Economics Library
'An illuminating and inspiring journey around the city of London; weaving together stories of resistance, care and the joy of collective trouble-making, and reminding us of the connectedness of our lives and struggles. In Queer Footprints, radical queer history is something that is constantly being made, not consigned to the past. This is a book that evokes many feelings – but above all, it provides us with the hope we need to act'

- Alice Robson, Organiser with Feminist Fightback
'An essential and extensive guide through the spaces in London which have enabled change across the world… All told with the enthusiasm and wonder of one of the most passionate and creative queer activists in the UK, Dan Glass'

- Ruth Daniel, CEO, In Place of War
'Radical and revolutionary… Queer Footprints will be used in the decades to come to guide queer youth and transform the conversation about trans issues. Dan Glass will lead you gasping for more, and by the end, you'll be fighting for justice on the streets'

- Ntombi Nyathi, Strategic Networking and Resource Mobilisations Officer, Training for Transformation
'Walking queerly in the footsteps of Dan Glass is a reparative experience. We have been here and forever will be. While strolling alongside these pages you will be invited to engage with the mosaic of a city as seen through experiences of lesser and more known queer trailblazers of all times. This book is a monument in the making - find your pace and don't you walk straight!'

- Szymon Adamczak, performance maker and HIV activist
'A fascinating walk through the early years of Gay Liberation to the (partial) decriminalisation of Homosexuality in June 1967'

- Jonathan Blake, British gay rights activist
'Beautiful, heartbreaking and inspiring… A series of stories that honour, celebrate, uplift and credit the people who have contributed to our extraordinary community'

- Lip Wieckowski, Centre Manager, LGBTQ+ Community Centre
'So engagingly written. A fabulous work of love and defiance. It documents and honours extraordinary and everyday struggles for personal and collective freedom, in a city of dreams and nightmares but so many delights!'

- David Rosenberg, author of 'Rebel Footprints'
'A fascinating and passionate ode to queer London in all its glory. Dan Glass has inspired hundreds if not thousands of people towards social justice and the transformative power of community activism. He has created London's new essential anthology of heroic queer histories and the untold stories of queers who built the world's greatest city. Read it for empowerment and take pride in their achievements'

- Jeremy Goldstein, founder of London Artists Projects
'Dan Glass is a living gift from our queer ancestry with an ability to write our present with an alternative view of our past. His experience has shaped the way we appreciate the world we live in and how we choose to question the past'

- Kieron Jina, artist
'Whether you are reading in the comfort of your own home, or following one of the tours live on the street, Queer Footprints brings the LGBTQIA+ history of London to life in a beautiful and visceral manner. This is no self-important history lesson that starts somewhere in the past and leads you date by date to the present. Oh no, Glass maps out important areas of the city and tells you all the queer history that happened there all in one go. It's all rather punk and well... queer. Years of experience as an LGBTQIA+ city tour guide show as Glass gleefully takes you from the sublime, to the ridiculous, from the shocking to the downright camp all in the space of a few streets (and pages).This is no white man's romp through history though, as Glass uncovers all intersections of the LGBTQIA+ experience, highlighting the glorious diversity of the queer pioneers and change makers that make up the rich tapestry of London's LGBTQIA+ history. Reading it serves as a reminder that ordinary people do extraordinary things every day… A love letter to queer London reminds us that although we're not always in the mainstream telling of history, we have always been here. And whilst the spaces and places we've occupied throughout the recent past may no longer be ours, or no longer even exist, this powerful book reminds us that real history, and indeed out future, doesn't lie in dates, buildings, pomp and ceremony, but within the hearts, minds, loves, lives, losses and desires of all the LGBTQIA+ people who occupied our cities before us'

- Nathaniel Hall, playwright and HIV activist
'In his usual glorious fashion, Dan brings us truly out from the sheets and into the streets. This is more than a history book. It's a living walking guide. It's a closeted cartographer's wet dream come true. It's a brick to throw through the windows of London's most transphobic establishments… I'll be utterly shocked if there aren't queer walking guides like this across all continents in five years'

- Phil Wilmot, member of Beautiful Trouble
'Dan Glass has uncovered the queer history of one of the world's great cities in a way that is not only eye-opening, but just as entertaining as the writer himself. Whether you've visited London, lived in London, or never been that lucky, you will see it with fresh eyes … his call to action, for activists to create similar histories of their communities today, is one I believe will be the legacy of this fabulous book'

- Victoria Noe, author of 'Fag Hags, Divas and Moms: The Legacy of Straight Women in the AIDS Community'
'A buoyant and enlivening jaunt through London's radical queer history. Dan Glass uses wit and passion to both archive and animate the communities who've made London such a vibrant and vitalising city. Queer Footprints is a testament to our belonging and offers evidence and witness to queer liveliness. Let Dan Glass and Queer Footprints be your guides to reclaiming the streets of London – and to uncovering the queer footprints in cities around the world'

- Josh Rivers, Busy Being Black podcast
'This book memorialises a London which recent capitalism has destroyed.  It's an activist psychogeography.  Next time I'm in London, I want to do some queer touring with this book.'

- Siobhan Fahey, Independent Creative Producer, RiotFilms.org, RebelDykesHistoryProject.com
'A personal and polemical guidebook … you can enjoy this book even if you're straight, as it reveals the places and lives that help to make a great city what it is but tend to go unrecognised by official histories and blue plaques'

- Rowan Moore, 'Observer'
'Joyful and powerful … Glass guides readers through London's queer history in this exceptional celebration and acknowledgment of the city's queer culture'

- 'Library Journal'
'An informative guide which sparkles with humour … this comprehensive and well-researched book takes you on a journey around the famous and infamous places in the capital'

- 'London Society'
Introduction
How to use this book
Accessibility guide
Key concepts and abbreviations
A bit about me
1. Homosexuals Come Out! - Soho
2. Even a homosexual can be revolutionary - Brixton
3. The Pansies are in Bloom - Trafalgar Square
4. The Fags have lost the wounded look - Piccadilly
5. A Cache of diamonds - Whitechapel
6. You think the dead we loved ever truly leave us? - Kings Cross
7. All Power to the People! - Ladbroke Grove
8. Short Queer Power Routes
References
Resources for further reading and action
Acknowledgments
Index
Published by Pluto Press in May 2023
Paperback ISBN: 9780745346212
eBook ISBN: 9780745346243