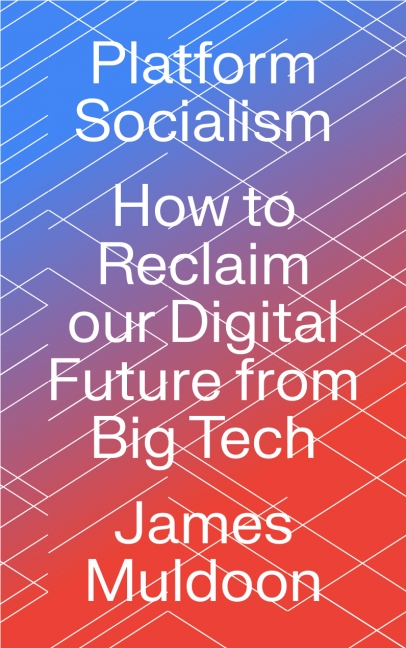 Platform Socialism
How to Reclaim our Digital Future from Big Tech
A bold new manifesto for digital technology after capitalism
Whoever controls the platforms, controls the future. Platform Socialism sets out an alternative vision and concrete proposals for a digital economy that expands our freedom.
Powerful tech companies now own the digital infrastructure of twenty-first century social life. Masquerading as global community builders, these companies have developed sophisticated new techniques for extracting wealth from their users.
James Muldoon shows how grassroots communities and transnational social movements can take back control from Big Tech. He reframes the technology debate and proposes a host of new ideas from the local to the international for how we can reclaim the emancipatory possibilities of digital platforms. Drawing on sources from forgotten histories to contemporary prototypes, he proposes an alternative system and charts a roadmap for how we can get there.
James Muldoon is a Senior Lecturer in Political Science at the University of Exeter, Head of Digital Research at Autonomy, and YouTube philosopher at Political Philosophy. He also works directly with digital businesses transitioning to fair work practices. His writing has appeared in the Guardian, Time magazine and the Huffington Post.
'A ground-breaking, ambitious and rigorous account of how and why we must take control over contemporary digital technologies'

- Nick Srnicek, Lecturer in Digital Economy at King's College London and author of 'Platform Capitalism'
'A clarion call for hope amid twenty-first century doom. With analytical flair, he shows that platforms are not invincible and that their infrastructure may be the key to a better world'

- Phil Jones, author of 'Work Without the Worker: Labour in the Age of Platform Capitalism'
'A compelling account of the political struggles that will be needed to challenge capital's control over digital platforms, and an essential read for anyone who believes in technology's emancipatory potential.'

- Wendy Liu, author of 'Abolish Silicon Valley: How to Liberate Technology from Capitalism'
'A punchy analysis of the platform economy that offers more than a critique of big tech's vision of our collective future. Muldoon sketches the contours of a democratic socialist alternative'

- Aaron Benanav, Researcher at Humboldt University of Berlin and author of 'Automation and the Future of Work'
'Encourages us to open our minds fully to the possibility of an alternative future, in which technology is put to work for the many, not the few'

- Lizzie O'Shea, lawyer and author of 'Future Histories'
Acknowledgements
Introduction
1. All the World's a Platform
2. Monetising Community
3. Community-Washing Big Tech
4. Private Power and Public Infrastructure
5. Guild Socialism for the Digital Economy
6. Building Civic Platforms
7. Global Digital Services
8. Recoding Our Digital Future
9. Postscript: 2042
Notes
Index
Published by Pluto Press in Jan 2022
Paperback ISBN: 9780745346953
eBook ISBN: 9780745346977