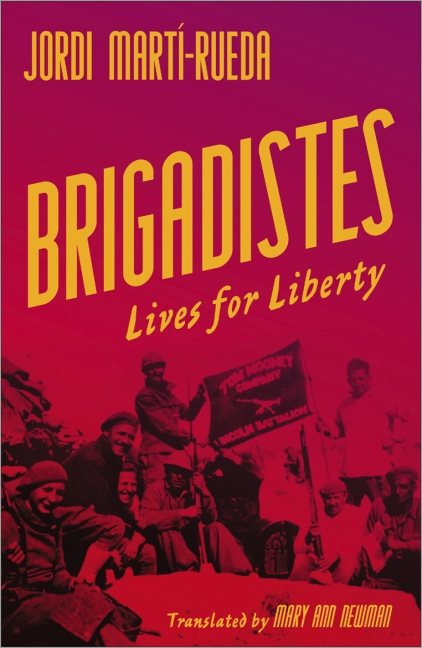 Brigadistes
Lives for Liberty
Sixty illustrated profiles of those who fought in the International Brigades during the Spanish Civil War
'A real treasure that we can't stop exploring' – La Republica
Felicia Browne decided it was time to put down her paintbrushes and pick up a rifle. Jimmy Yates left Chicago with three books in his bindle, sacrificing them all on the gruelling trek across the Pyrenees. Salaria Kea worked at the front as a nurse, judged by her skill rather than her skin colour...
In 1936 something extraordinary happened. As the threat of fascism swept across the Iberian peninsula, thousands of people from all over the world left their families and jobs to heed the call - No Pasarán! History has never seen a wave of solidarity like it. The Spanish Civil War ended in 1939 with the Republic crushed, but the revolutionary dream of the International Brigades has never burnt out.
Through these 60 illustrated profiles, Brigadistes embroiders an epic story of political struggle with the everyday bravery, sorrow and love of those who lived it.
Jordi Martí-Rueda is a historian specialising in the Spanish Civil War and International Brigades. His first book, Tocats pel vent: Cinc histories humanes de les Brigades Internacionals i la Guerra Civil, won the Liberisliber prize in 2015 for non-fiction.
Jordi Borràs i Abelló is a Catalan illustrator and photojournalist. He specialises in photography of the far right. His bestselling book of photos from the Catalan independence referendum Dies Que Duraran Anys (Days that will last years) was published in 2018.
Mary Ann Newman translates fiction, poetry and essays from Catalan and Spanish. She is a member of the PEN America Translation Committee and won the 2017 NACS Award for Outstanding Scholarship and the J.B. Cendrós Award (Òmnium Cultural) for her translation of Private Life by Josep Maria de Sagarra.
'A real treasure that we can't stop exploring'

- 'La Republica'
'Real and very human ... Reliving these lives, today, is more important than ever'

- 'Cazarabet'
'Told with skill, sensitivity and rigor, [...] these are the stories that Jordi Mart-Rueda has been collecting for years. They fought for ideals in a battle against fascism - a global threat that remains to this day'

- 'El Temps'
'An excellent introduction to the world of the International Brigades' 

- 'AB Origine'
'Brings us close to the most human face of war' 

- 'El Salto'
'An extraordinary book. Perceptively written, beautifully translated and accompanied by wonderful photographs, it brings us close to the heroism and sacrifices of those who risked their lives in the fight against fascism'

- Paul Preston, author of 'The Spanish Civil War: Reaction, Revolution and Revenge'
'A beautiful, touching tribute to the everyday heroes who battled so bravely in the fight against fascism'

- Maxine Peake, actor
Foreword by Jordi Borràs
Acknowledgments
Translator's Preface
Introduction: Living and Reliving
Lives of the Brigadistes:
The Bravest Woman in Barcelona
Painter and Miliciana
The Nielsen Brothers
Welcome to the War, Penny Phelps
The Long March
The Nurse from Harlem
The Road
The Enemy
César Covo
The Bullet That Didn't Whistle
The Girl With the Truck
Words and Bullets
Even the Olives Are Bleeding
The Man Who Made History
Smiles
The Nameless
The Decision
Len Crome
Capitana Etchebéhère
Silence
The Patient
Dr. Jolly
George Nathan's Last Wish
The Writer Who Didn't Want to Write
Hot Water
Beating the Odds
Mothers
Harry Fisher
Don't Close Your Eyes
Ernst Busch
Annie Murray
Erika Glaser
Frank Ryan
Merriman
The Legend
Jimmy Rutherford
The Guerrilla Warrior
Patience Darton
The Irishman
René Cazala's Last Shot
Valediction
Fear
The Man Who Invented Things
Nan Green's Blood
The Heroine
The Hill
Hill 666
The Last Man
A Glass of Wine Before Dying
Braina Voss
Courage
Write My Name
The Landless
Paula Draxler
Frida Stewart
Roberto Vincenzi
Where is My Home?
Aileen
Colonel Fabien
Rol-Tanguy
Notes
Sources
List of Photographs
Index
Published by Pluto Press in Mar 2022
Paperback ISBN: 9780745347127
eBook ISBN: 9780745347134