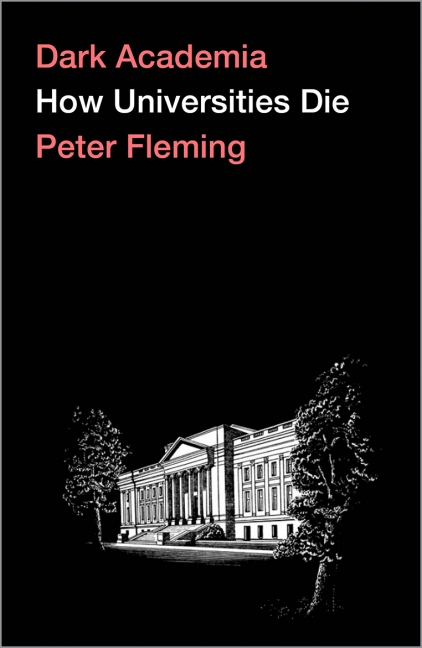 Dark Academia
How Universities Die
Bestselling author Peter Fleming uncovers the dark underbelly of the modern university to reveal cracks in the ivory tower
There is a strong link between the neoliberalisation of higher education over the last 20 years and the psychological hell now endured by its staff and students. While academia was once thought of as the best job in the world - one that fosters autonomy, craft, intrinsic job satisfaction and vocational zeal - you would be hard-pressed to find a lecturer who believes that now.

Peter Fleming delves into this new metrics-obsessed, overly hierarchical world to bring out the hidden underbelly of the neoliberal university. He examines commercialisation, mental illness and self-harm, the rise of managerialism, students as consumers and evaluators, and the competitive individualism which casts a dark sheen of alienation over departments.

Arguing that time has almost run out to reverse this decline, this book shows how academics and students need to act now if they are to begin to fix this broken system.
Peter Fleming is Professor of Organisation Studies at the University of Technology, Sydney. He is the author of The Mythology of Work (Pluto, 2015) and The Death of Homo Economicus (Pluto, 2017).
'Fleming's books are sparklingly sardonic and hilariously angry' - 'Guardian'
'Our foremost critic of management ideology, Peter Fleming, turns his talents to the corporate university and what he rightly calls its authoritarian turn, and he does so with devastating results' - Stefano Harney, Honorary Professor, Institute of Gender, Sexuality, Race and Social Justice, University of British Columbia
'A brilliant expose of the scourge of neoliberalism and its dark transformation of higher education into an adjunct of sordid market forces. This is a book that should be read by anyone concerned with not only higher education but the fate of critically engaged agents, collective resistance and democracy itself' - Henry Giroux, McMaster University Chair for Scholarship in the Public Interest & The Paulo Freire Distinguished Scholar in Critical Pedagogy
Introduction: Infinite Hope... But Not For Us
1. Dark Academia
2. La La Land
3. Welcome to the Edu-Factory
4. The Authoritarian Turn in Universities
5. You're Not a Spreadsheet With Hair
6. The Demise of Homo Academicus
7. High Impact...
8. The Academic Star-Complex
9. Student Hellscapes
10. How Universities Die
Conclusion: Are Some Lost Causes Truly Lost?
Published by Pluto Press in May 2021
Paperback ISBN: 9780745341064
Hardcover ISBN: 9780745341057
eBook ISBN: 9781786808141