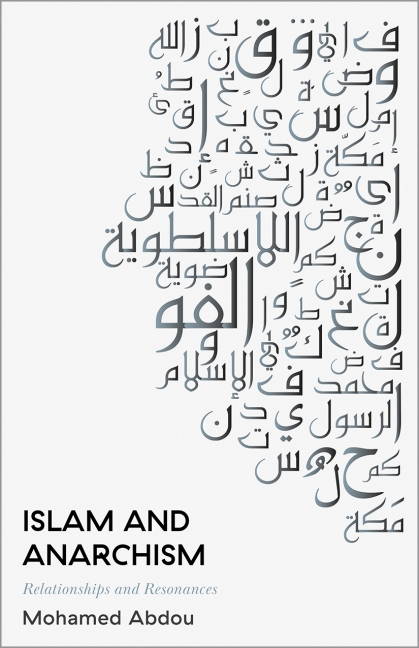 Islam and Anarchism
Relationships and Resonances
A nuanced and highly original anarchistic interpretation of Islam, and Islamic interpretation of anarchism
Discourse around Muslims and Islam all too often lapses into a false dichotomy of Orientalist and fundamentalist tropes. A popular reimagining of Islam is urgently needed. Yet it is a perhaps unexpected political philosophical tradition that has the most to offer in this pursuit: anarchism.
Islam and Anarchism is a highly original and interdisciplinary work, which simultaneously disrupts two commonly held beliefs - that Islam is necessarily authoritarian and capitalist; and that anarchism is necessarily anti-religious and anti-spiritual. Deeply rooted in key Islamic concepts and textual sources, and drawing on radical Indigenous, Islamic anarchistic and social movement discourses, Abdou proposes 'Anarcha-Islam'.
Constructing a decolonial, non-authoritarian and non-capitalist Islamic anarchism, Islam and Anarchism philosophically and theologically challenges the classist, sexist, racist, ageist, queerphobic and ableist inequalities in both post- and neo-colonial societies like Egypt, and settler-colonial societies such as Canada and the USA.
Mohamed Abdou is a North African-Egyptian Muslim anarchist activist-scholar. He is currently a Visiting Scholar at Cornell University and an Assistant Professor of Sociology at the American University of Cairo. His twenty years of activist research and experience centers on Palestinian, Indigenous, Black, and people of colour liberation, and draws on the Indigenous Zapatista movement in Chiapas, Mexico, as well as his participation in the Egyptian uprisings of 2011.
'This is one of the fiercest books I've ever read. It is a call to action. It is conceptually rich and gives us new methodological tools for thinking theory and politics together. It is unrelenting in its critique of liberal assimilationist tendencies in diasporic and BIPOC knowledge production and movement organizing. Abdou is a truth-teller of the highest order. Drawing together disparate geographies and thought into a dazzling web of interconnectedness and dialogue, Islam and Anarchism proffers a kaleidoscopic vision of what could be otherwise'

- Jasbir K. Puar, author of 'Terrorist Assemblages' and 'The Right to Maim'
'A passionate plea for a spiritual decolonial movement. Mohamed Abdou advances a vision of Islam that is abolitionist at its core, reminding us that Islam has been and can still be a religion of the oppressed, one that is anti-capitalist, egalitarian, anti-ableist, anti-patriarchal, queer feminist and for Muslims and non-Muslims alike'

- Sherene H. Razack, Distinguished Professor and Penny Kanner Endowed Chair, Gender Studies, UCLA
'An uncompromising queer-feminist vision of decolonial, abolitionist, and anti-capitalist praxis that is keyed to the pluralistic traditions of Islamic spirituality and anarchic thought'

- Iyko Day, Elizabeth C. Small Associate Professor of English and Critical Social Thought at Mount Holyoke College, Massachusetts
Preface
Acknowledgments
A Note on Transliteration and Translation
1. Introduction: Panegyric Desert of the Present
The Destructive Legacy of (Neo)Liberalism and Colonial Modernity in the Production of Neo-Orientalist and Neo-Fundamentalist Muslim Subjectivities
A Match to a Powder Keg
Islām and Anarchism Are Dead: Muslim Anarchists in Turtle Island's Newest Social Movements
Positionality: Who Is Speaking?
A Sum Exceeding the Whole, Everything Divided: The Argument Condensed
2. Authoritarianism, Capitalism, and Capitalist Nation-States: Anarcha-Islām's Playground and Ethical-Political Consciousness
On Decolonization and Reindigenization, and the Crises of Fleeting Tahrir Moments
Thus Spoke God: The Method of Anarchic Ijtihād
Deleuze and Guattari's Oedipal Triad: The Nation-State (Daddy) – Capitalism (Mommy) – and Me/Us
3. Anarcha-Islām: An Anti- and Non-Authoritarian Islām
Anarcha-Islām's Osteological Left-Side
Arise: An Anti- and Non-Authoritarian Islām
Modern Uses of Waṭaniyyah, Qawmiyyah, and Dawla, and Decolonized Vestiges of the Umma and Īmāmah in Arab and Muslim Lexicons
Muslim and Non-Muslim Glossaries of Indigeneity Towards a Resurgent Umma: Anti-Blackness and Anti-Indigenous Politics
4. Anarcha-Islām: An Anti- and Non-Capitalist Islām
Anarcha-Islām's Osteological Right-Side
Awaken: An Anti- and Non-Capitalist Islām: Micro- and Macro-Economics
As Patients We Come to Each Other's Aid
5. Uprisings: On (Im)Possibilities and Militant Resistance
The Delusional Myth of Nonviolence
Violence, Jihād, and Qitāl in Islām: A Single Blunder Can Fuel a Great Fire
From the Deception of "Nonviolence" to Red, Black, and Brown Power
Liberatory Victory
6. Conclusion: There Are Only Middles, No Beginnings and No Ends. Between BLM, NoDaPL-INM, and Tahrir
Notes
Index
Published by Pluto Press in Jun 2022
Paperback ISBN: 9780745341927
eBook ISBN: 9781786807151