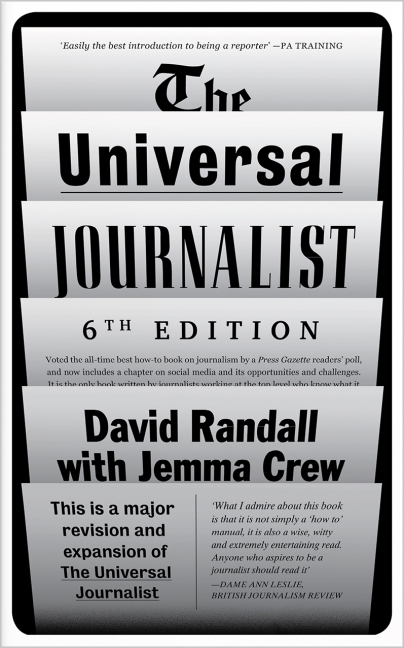 The Universal Journalist
A fully updated edition of one of the world's bestselling journalism handbooks
This is the only 'how to' book on journalism written by writers and editors who have operated at the top level in national news. It has long been the go-to book of advice for young reporters

This edition includes a chapter on social media and is extensively updated throughout, with new content from Jemma Crew, an award-winning national news journalist. The book emphasises that good journalism must involve the acquisition of a range of skills that will empower trainees to operate in an industry where ownership, technology and information are constantly changing.

This handbook includes tips and tricks learned from working at the very top of the business, and is an invaluable guide to the 'universals' of good journalistic practice for professional and trainee journalists worldwide.
David Randall is a British journalist and author who was chief news writer of the Independent on Sunday and has been news editor of three national newspapers.
'Easily the best introduction to being a reporter'

- Paul Jones, Press Association
'What I admire about this book is that it is not simply a 'how to' manual, it is also a wise, witty and extremely entertaining read. Anyone who aspires to be a journalist should read it'

- Dame Ann Leslie, 'British Journalism Review'
'The go-to guide for any up and coming journalist, shining a light on every element of the job in an engaging, insightful way. And with the likes of social media and data covered too, it's also a compelling read for the established reporter'

- Peter Clifton, Editor-in-Chief, PA Training
Acknowledgements
Preface
1. Journalism in an Age of Social Media
2. What Makes A Good Reporter?
3. The Limitations of Journalism
4. What Is News?
5. Where Do Good Stories Come From?
6. Research
7. Handling Sources, Not Them Handling You
8. Questioning
9. Reporting Numbers and Statistics
10. Investigative Reporting
11. How to Cover Major Incidents
12. Mistakes, Corrections and Hoaxes
13. Ethics
14. Writing News and Features
15. Intros
16. Construction and Description
17. Handling Quotes
18. Different Ways To Tell A Story
19. Comment, Intentional and Otherwise
20. How To Be A Great Reporter
Reading for Journalists
Index
Published by Pluto Press in Mar 2021
Paperback ISBN: 9780745343259
Hardcover ISBN: 9780745343266
eBook ISBN: 9780745343273