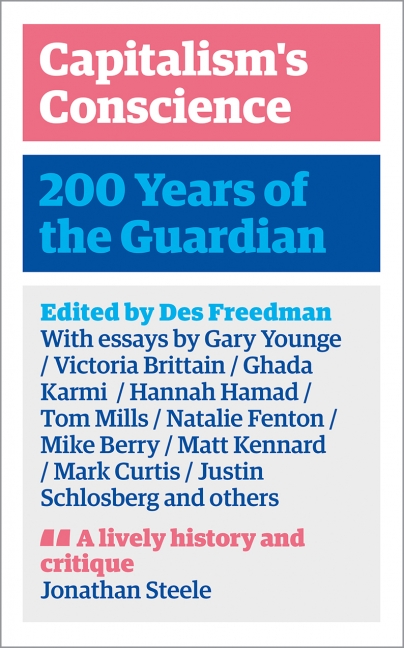 Capitalism's Conscience
200 Years of the Guardian
A comprehensive and wide-ranging critique of the Guardian's journalism and political values
'A lively and well-researched history and critique' - Jonathan Steele, former Chief Foreign Correspondent for the Guardian
Since its inception in Manchester in 1821 as a response to the 1819 Peterloo Massacre, the Guardian has been a key institution in the definition and development of liberalism. The stereotype of the 'Guardianista', an environmentally-conscious, Labour-voting, progressively-minded public sector worker endures in the popular mythology of British press history.
Yet the title has a complex lineage and occupies an equivocal position between capital and its opponents. It has both fiercely defended the need for fearless, independent journalism and handed over documents to the authorities; it has carved out a niche for itself in the UK media as a progressive voice but has also consistently diminished more radical projects on the left.
Published to coincide with its 200th anniversary, Capitalism's Conscience brings together historians, journalists and activists in an appraisal of the Guardian's contribution to British politics, society and culture - and its distinctive brand of centrism. Contextualising some of the main controversies in which the title has been implicated, the book offers timely insights into the publication's history, loyalties and political values.
Des Freedman is Professor of Media and Communication Studies at Goldsmiths, University of London and an editor of the journal Global Media and Communication. He is the co-editor of The Assault on Universities (Pluto, 2011), and author of The Politics of Media Policy (Polity, 2008), Television Policies of the Labour Party (Routledge, 2003) and War and the Media (Sage, 2003).
'A lively and well-researched history and critique of Britain's best newspaper, exposing the ideological contradictions and editorial tensions which generally keep the 'Guardian' allied to a soft liberalism but shies away from radical or socialist answers to capitalism's recurring crises'

- Jonathan Steele, former Chief Foreign Correspondent for the 'Guardian'
'Fascinating and timely'

- Angela McRobbie, Professor of Communications at Goldsmiths, University of London
'A page turner - reveals the liberal establishment in all its ingloriousness, sprinkled with a few moments of integrity'

- Beverley Skeggs, Professor, Sociology, Lancaster University
'Liberalism typically champions particular campaigns for social justice but distances itself from challenges to the state and economy that produces these injustices. At last a book which reveals this serious problem. A must read for all Guardian readers!'

- Hilary Wainwright, Founding Editor of 'Red Pepper' and author of 'A New Politics From the Left' (Polity Press, 2018)
'A forceful intervention'

- 'LSE Review of Books'
List of Figures and Tables
Introduction: 'Just the Establishment'? - Des Freedman
1. In the Wake of Peterloo? A Radical Account of the Founding of the Guardian - Des Freedman
2. The Political Economy of the Guardian - Aaron Ackerley
3. Reflections from an Editor-at-large - Gary Younge
4. Radical Moments at the Guardian - Victoria Brittain
5. The Guardian and the Israeli–Palestinian Conflict - Ghada Karmi
6. The Guardian and Latin America: Pink Tides and Yellow Journalism - Alan MacLeod
7. The Origins of the Guardian Women's Page - Hannah Hamad
8. Trans Exclusionary Radical Centrism: The Guardian, Neoliberal Feminism and the Corbyn Years - Mareile Pfannebecker and Jilly Boyce Kay
9. The Guardian and Surveillance - Matt Kennard and Mark Curtis
10. Corruption in the Fourth Estate: How the Guardian Exposed Phone Hacking and Reneged on Reform of Press Regulation - Natalie Fenton
11. The Guardian and Corbynism and Antisemitism - Justin Schlosberg
12. Guardian Journalists and Twitter Circles - Tom Mills
13. The Guardian and the Economy - Mike Berry
14. The Guardian and Brexit - Mike Wayne
15. 'I'm not "racist" but': Liberalism, Populism and Euphemisation in the Guardian - Katy Brown, Aurelien Monden and Aaron Winter
Notes on Contributors
Index 
Published by Pluto Press in Apr 2021
Paperback ISBN: 9780745343341
eBook ISBN: 9780745343365