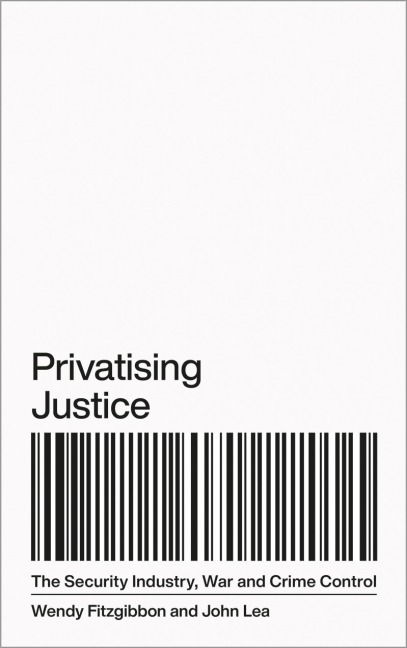 Privatising Justice
The Security Industry, War and Crime Control
A powerful petition against the privatisation of the criminal justice system.
Privatising Justice takes a broad historical view of the role of the private sector in the British state, from private policing and mercenaries in the eighteenth century to the modern rise of the private security industry in armed conflict, policing and the penal system.
The development of the welfare state is seen as central to the decline of what the authors call 'old privatisation'. Its succession by neoliberalism has created the ground for the resurgence of the private sector. The growth of private military, policing and penal systems is located within the broader global changes brought about by neoliberalism and the dystopian future that it portends.
The book is a powerful petition for the reversal of the increasing privatisation of the state and the neoliberalism that underlies it.
Wendy Fitzgibbon is a Reader in Criminology at the University of Leicester. She previously worked as a probation officer. She is the author of Pre-emptive Criminalisation: Risk Control And Alternative Futures (NAPO 2004) and Probation and Social Work on Trial (Palgrave, 2011).
John Lea is a Visiting Professor at Goldsmiths College, University of London. He is the author of several books, including What Is To Be Done About Law and Order? (Pluto, 1993) and Crime and Modernity (Sage, 2002).
'Privatising Justice is a compelling, and often disturbing, account of the shifting boundaries between state and private coercion. Historically grounded and theoretically informed, this book is a thought-provoking examination of emergent forms of public-private power and where they may be headed'

- Dean Wilson, co-author of 'Pre-crime: Pre-emption, Precaution and the Future'
'In this timely text, Wendy Fitzgibbon and John Lea provide a salutary warning of a potentially dystopian future in which the rule of law is ultimately subservient to, and shaped by, the neoliberal project of expanding the economic domination of the powerful'

- Lawrence Burke, co-author of 'Reimagining Rehabilitation Beyond the Individual'
'This ground-breaking analysis offers a highly readable and thought provoking understanding of the complex interplay between the state, the security industries and the military estate through the lens of privatisation'

- Sandra Walklate, author of 'Gender, Crime and Criminal Justice'
'The privatisation of justice is one of the riskiest developments of the recent era, yet it is also among the most misunderstood. As such, Fitzgibbon and Lea's rigorous analysis could not be more welcome. It is essential, if at times chilling, reading'

- Shadd Maruna, author of 'Making Good: How Ex-Convicts Reform and Rebuild Their Lives'
Acknowledgements
Introduction
1. Old Privatisation
2. The Consolidation of State Power and Legitimacy
3. The Re-emergence of Private War
4. Private Security and Policing
5. The Private Sector in the Penal System
6. Towards a Private State?
References
Index
Published by Pluto Press in Apr 2020
Paperback ISBN: 9780745399232
eBook ISBN: 9781786801678