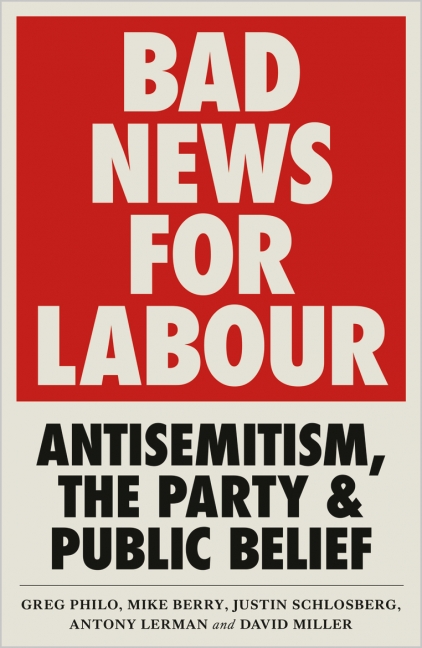 Bad News for Labour
Antisemitism, the Party and Public Belief
A groundbreaking study on the reality behind the headlines on antisemitism and the British Labour Party.
During the summer of 2018, numerous members of the Labour Party were accused of anti-Semitic behaviour by their detractors. The controversy reached fever pitch amid claims that the Labour Party had become 'institutionally racist' under the leadership of Jeremy Corbyn, and that the prospect of a Corbyn-led government posed an 'existential threat' to Jewish life in Britain. Shrouded in confusion, hyped by the media, whether these accusations were true or not got lost in the mix.

This book clears the confusion by drawing on deep and original research on public beliefs and media representation of antisemitism and the Labour Party, revealing shocking findings of misinformation spread by the press, including the supposedly impartial BBC, and the liberal Guardian.

Bringing in discussions around the IHRA definition, anti-Zionism and Israel/Palestine, as well as including a clear chronology of events, this book is a must for anyone wanting to find out the reality behind the headlines.
Greg Philo is a Professor at Glasgow University, and Research Director of the Glasgow Media Group. He is the author, with Mike Berry, of More Bad News from Israel (Pluto, 2011), and Israel and Palestine (Pluto 2006), and co-author, with Emma Briant and Pauline Donald, of Bad News for Refugees (Pluto, 2013).
Mike Berry is Lecturer in the Faculty of Arts, University of Nottingham and, with Greg Philo, is the author of Israel and Palestine: Competing Histories (Pluto, 2006) and More Bad News from Israel (Pluto, 2011).
Justin Schlosberg is a media activist, researcher and lecturer in Journalism and Media Studies at Birkbeck College, University of London. He is the author of Power Beyond Scrutiny (Pluto, 2013).
Antony Lerman is Senior Fellow at the Bruno Kreisky Forum for International Dialogue in Vienna and Honorary Fellow of the Parkes Institute for the Study of Jewish/non-Jewish Relations at Southampton University. He is the author of The Making and Unmaking of a Zionist: A Personal and Political Journey (Pluto, 2012) and editor of Do I Belong? (Pluto, 2017).
David Miller is Professor of Sociology in the Department of Social and Policy Sciences at the University of Bath. He is the co-editor of What is Islamophobia? (Pluto, 2017) and the author of Thinker, Faker, Spinner, Spy (Pluto, 2007) and A Century of Spin (Pluto, 2007).
'At last! Here is a book that rigorously examines the facts behind the allegations of antisemitism in the Labour Party. The reality is more shocking, and more surprising, than the headlines in the press would have you believe. Here is the evidence - read it. Then learn the lessons suggested here' - Ken Loach
'The essays in this book provide evidence and arguments that are deeply troubling for all concerned, and demand careful attention.' - Peter Golding, Emeritus Professor, Northumbria University
What the careful research reported in this book reveals is a successful disinformation campaign in which the BBC as well as the Guardian have been complicit. Anyone who cares for facts needs to read it. - Colin Leys, honorary professor at Goldsmiths University of London; author of 'Market-Driven Politics: Neoliberal Democracy and the Public Interest', and, with Stewart Player, 'The Plot Against the NHS'
'This compelling, thoughtful text is essential reading for everyone wanting to confront antisemitism on the Left. It provides a benchmark for future research and strategy when tackling this explosive issue of our time' - Lynne Segal, author of 'Radical Happiness: Moments of Collective Joy'
Acknowledgements
Preface
1. Believe It or Not - Greg Philo and Mike Berry
2. Divisions and Competing Accounts - Greg Philo and Mike Berry
3. What Could Have Been Done and Why It Wasn't, and Will It End? - Greg Philo and Mike Berry
4. Media Coverage of the IHRA Definition and Its Adoption by the Labour Party - Justin Schlosberg
5. Weapons in the Labour Antisemitism Wars? The IHRA Working Definition and the Accusation of 'Institutional Antisemitism' - Antony Lerman
6. 'A' State of Israel or 'The' State of Israel: The Politics of the IHRA Definition - David Miller
Conclusion
Appendix: Timeline of Events - Mike Berry and Greg Philo
Bibliography
Index
Published by Pluto Press in Sep 2019
Paperback ISBN: 9780745340661
eBook ISBN: 9781786805720